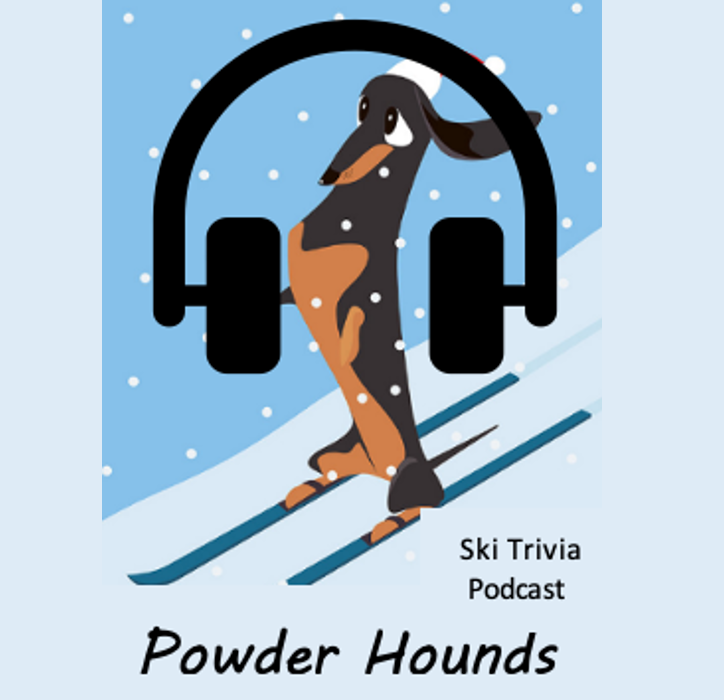 The Powder Hounds podcast is the original ski trivia game podcast. Host Jeff "Shawman" Shaw will take listeners on a ski tour across North America to talk ski areas, ski news, ski passes and talk with ski industry professionals, volunteers and outdoor enthusiasts. Think snow sports fun on your way to or from the mountain!
I also enjoy writing. Below are a collection of essays and shorter blog posts on ski-themed topics.
January 1, 2021 
Mountain Magazine for the Moment
Youthful inspiration, East Coast ski royalty, stargazing, freeskiing fame, and scuba diving in Lake Tahoe, are just a sample of the first dozen pages of resuscitated print magazine, Mountain Gazette (MG), edition #194. I haven't even finished reading all 130 pages yet know it is a must-have magazine for this moment.
The semi-annual, 11×17 inch magazine is a beautiful celebration of mountain culture that deserves time and attention. It's about telling authentic stories of real people living in real mountain towns. It is not about sponsored athletes, latest gear trends or industry experts. It's about art, nostalgia, music and our endless desire to explore the outdoors.  With interest in the outdoor recreation off the charts, timing of this rebirth could not be better. 
I don't know about you, but I struggle slogging through the fire hose of information – emails, posts, prints and recordings – unleashed each day. Just count to three; in that time 18,000 tweets and 2.4 billion emails have been sent. It's hard enough keeping up with what you are into, let alone things you could be into. 
As an avid skier, mountain biker, stand-up paddleboarder, and trailblazer extraordinaire, the pages of #194 are familiar territory. Other topics, pursuits and passions I don't know much about (birding, climbing, even mutton busting) are still intriguing. With MG, you get shot of both; comforting familiarity as well as enticing new frontiers. 
I'm actually late to the party. Thanks to an extended USPS delay, #194 just showed up in my mailbox a few days before New Year's (subscribers received copies as early as November). Since this edition unexpectedly sold out, better late than never. I also cut my teeth on northeast slopes (not the Northeast Slopes) and despite working at a ski shop as a curious (and mischievous) dual-plank youngster, never heard of MG until the recent string of online teasers. 
Before #194 arrived, I had this unexplained feeling that somehow, some way, the revived magazine was made for this moment. (An optimistic view considering the recent fate of Powder and other outdoor titles.) After flipping those initial pages, it all made sense. Holding this beast of a magazine (local Beast [Killington's nickname] pun intended; rhythm upcoming) is different; better, and meaningful. Here's why: 
The editor, Mike Rogge, is a well-known journalist (Powder, The Ski Journal) and filmmaker (Ski the East) and actively engages the outdoor community. He even sent a personal email to me (and likely to all readers) to say thank you for subscribing and keep in touch. Who else takes the time to do that? Personal connection is appreciated, especially these days.
Six-month editions provide time to read each article at a leisurely pace. The timelessness of the stories makes the magazine a must-keep, to pull from the shelf each, take-your-pick season, to set the stoke. Better yet, pass it on to someone unfamiliar with the title, like my younger self (sharing is caring!). Whether you live in a mountain town, live an outdoor lifestyle or are seeking a temporary escape, the wide-ranging topics, free form style, and emotional depth keeps you invested with an expressiveness that invigorates the imagination.  
Environmentally friendly practices. The 11×17 inch pages are recycled paper, yet the print quality holds up. Even the packaging, at least for the "I Love Small Ski Areas" t-shirt, was fully compostable. That took some thought, well done.  
Striking Photography. The giant photographs are not shiny, but still catch your eye. Examining the details of the frosty Cannon Mountain landscape got me pondering where to capture similarly brilliant landscapes on my next trek at The Living Legend or elsewhere.
Limited ads. Of the 129 pages, 125 are ad free. Of the sponsors, at least two have bold commitments to environmental sustainability and responsible sourcing. Bless your heart, MG.
A previous criticism of the magazine was that it featured too many Western mountain stories. Indeed, MG was born out West, is currently based in Lake Tahoe (CA) and many writers have Western addresses. When pressed on the vision of where and who stories would come from, editor Mike Rogge, responded, "We are going to explore mountain towns across North America." Roll call, please: Adirondacks, Appalachian, Berkshires, Catskills, Green, White, heck, even the Laurentian Mountains. 
In a loud, chaotic and seemingly lost world, it is reassuring to literally hold positive, inspiring, and uncommon outdoor stories. Eventually those beast-sized pages will tell the East Coast story for the ages.
Jeff
PS – I read somewhere that Mountain Gazette is too big to fit into a backpack. Nah, just grab an Osprey 24/7 Series and enjoy it from the summit.